"The world at the tip of the thumb"
("Le monde au bout du pouce" )
World-tour of Rachel and David
---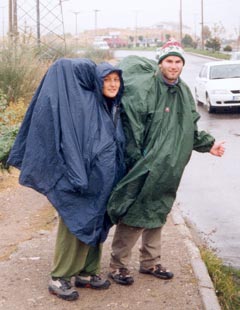 David and Rachel in Turkey
---
Last news!
---
We are back in France
since 15th of June 2002
en La Roche sur Yon!
our address:
PRUAL Rachel
34bis, rue du vieux bourg
85170 Dompierre sur Yon
FRANCE
tel : +33 2 51 07 56 88
rachelprual@yahoo.fr




CHOLET David
38 rue Watteau
44100 Nantes
FRANCE
tel : +33 6 70 11 73 86
choletd@yahoo.fr
previous news
Ouagadugu (Burkina Faso) 19th april 2002
HI!
We already left Benin where we spent one month visiting rural villages and a few touristic places ( the royal city of Abomey, Ouidah where the slaves were taken to America...). A french friend of us, Madeleine (president of a Non Governmental Organisation which
helps benin poor children) shown us the country through her work. We enjoyed the happy welcoming parties, the smile of the numerous children, the beautiful and still traditional landscapes of the Atacora (northern Benin)...
We also met a new very good friend, Cathy, who was "fighting" to be able to get her benin adopted son, Charles, back to France. Moreover, we spent a few days with esperantists from western Benin before entering Togo where other esperantists invited us. A lot of great
meetings !
We are now in Ouagadougou (capital of Burkina Faso) where we spent a short week to get our mauritanian and malian visas. We are hosted by a young journalist (esperantist), Germain, who shows us the student life and explain a lot about his country. We already loved Burkina Faso 6 years ago and we really like the people and the way of life here.
Tomorrow though, we'll take one more bus to continue our trip. Let's go to the saharian desert !
Rachel & David

---
Johannesburg, 2nd March 2002
We are still in South Africa where we arrived on the 10th of january. We were supposed to be in Madagascar now but we had to cancel our journey there because of the general strike in the capital after the presidential elections. Thus we'll be in South Africa for 2 months in
total as we'll fly to Benin on the 14th of march.
What about our stay here, in South Africa ? We started it in Cape Town where we spent 10 days with Magali and Harro, esperantist friends : the region offered us the opportunity to visit Robben island (where Nelson Mandela spent almost 20 years in jail), wineries around Stellenbosh, the beautiful abd wild peninsula of Good Hope cape, different areas of Cape Town...
Then we traveled by bus during one month along the east coast (beautiful landscapes and beaches !) and through Swaziland. We discovered and shared the lifestyle of different peoples like "Zoulou", "Xhosa", "Swazi"... We visited a few natural parks and saw a lot of wild animals (hippos, rhinos, elephants, zebras, lions...).
In Durban and later in Johannesburg/Pretoria, we met a few esperantists (among who refugees from Congo). One of them, Clement (who is just starting) invited us in Soweto where he lives and we spent a week together visiting his family in villages : a good
experience for all of us and the opportunity for Clement ti visit his first park (the famous Kruger park) and meet a lot of animals.
All these experiences made us enjoy our stay in South Africa even if sometimes we felt uncomfortable as white people. Apartheid is still not totally forgotten and that's normal as it was abolished only in the last 12 years...
For the next 2 weeks, we plan to go in Lesotho, this small mountainous country surrounded by South Africa. Then it will be time for us to fly to Western Africa...
Ciao
Rachel & David
---
São Paulo, BRASIL 7 th of January 2002
*HAPPY NEW YEAR 2002!
We wish you all the best and more peace in our world. For us, this year will be our come back in France (on the 15th of june) but for the moment let's go to Africa !
We are now in Brazil but tonight we'll live the American continent. We spent almost 2 months in this country wish looks like a continent and we visited the Pantanal, Campo Grande, Bauru, Sao Paulo,
Brasilia, Brazlandia, Alto Paraiso, Salvador de Bahia and Rio de Janeiro. More than 6000 km !
We enjoyed many parties with esperantist friends, beaches, music, food... We loved to be with this colored and mixed people.
For Christmas, Davids' parents and Carine (his young sister) were with us in Rio and for the 31st of december, we were on the beach of Copacabana with 2 millions of people... Crazy !
Tonight, we'll take the plane to South Africa via... Paris and London !
See you.
Rachel and David
---
Sucre, BOLIVIA 8th November 2001
Hello friends!
Since Guatemala we travelled quickly through Central America and south Ecuador to enter Peru. There we spent a few
days in Lima with esperantists, then we walked along the Inca trail and vizited Machu Pichu and to finish,
we enjoyed the beauty of the Titicaca lake and its islands.
On the 21th of october, we entered Bolivia where Rachels' parents joined us 5 days later to share 2 weeks of travelling. Here are a few great times : train ride beetween Oruro and Uyuni, visit of the silver mines in Potosi, celebrations on the day of "All saints" and our 4 days tour by jeep through the desertic, colourfull and amazing landscapes around Uyuni (especially the "salar" or salt desert). The only problem was the altitude which affected our body but it couldn't affect our enthousiasm end we loved Bolivia and its nice and peacefull inhabitants.
Now, let's go to Brazil !
Bye
Rachel & David
---
Panajachel, GUATEMALA, Saturday 8th September
Hola amigos !
Since the 28th of july, we are on the american continent. At first, we stayed 2 weeks in California to enjoy the atmosphere (and the fog!) of San Francisco, hitch hike along the Pacific coast down to Los Angeles, walk on the star boulevard in Hollywood and have a great time with international summer students in San Diego. In each place we stayed with esperantists or french friends: fortunately because life is incredibly costly in the country of the dollars!
The 12th of august, we entered Mexico where we visited Guadalajara, Mexico city, Oaxaca, San Cristobal de las casas and Palenque. We really enjoyed this country for its atmosphere, archeological sites, people, etc...
Now we are in Guatemala. Two days ago we visited the maya site of Tikal, lost in the jungle: beautiful! We loved seeing and hearing wild animals around us... Next week, David starts a one week course of Spanish in Antigua (very nice small town) and I (Rachel...) will go in Quetzaltenango where the independence festival takes place. One week one without the other : new experience...
Hasta luego
Rachel & David
---
G'DAY from Australia!
Sydney, the 10th of july 01
Already almost one year since we left France and long way covered, almost 38000 km... In Australia, we innovated by bying our own car, a Ford Falcon (called FeFe by the french previous owners). Here it is very current and easy to buy a car for a few weeks or months to discover the country properly : we needed only 24 h to buy FeFe in Darwin and not more to sale it back in Sydney, 6 weeks later... at the same price !
With FeFe, we enjoyed more independance and "home made " cooking thanks to the camping gear supplied in it. We drove 7000 km on red unsealed trails or nice highways and enjoyed the wildlife along the way. We had never seen so many wild animals : crocodiles, kangaroos of course, kolalas, birds end even... a whale jumping in the sea ! We also discovered the Aboriginal culture and people, worked one week in a cattle station and dived along the Great Barrier Reef.
We are now in Sydney where we stay in the Esperanto centre before flying to Bali on the 13th of july.
See you!
---

Selamat petang !
(malaisian hello)

24th may 2001

The tour is finished... not the world tour, don't worry ! It's only that after Laos, Vietnam and Cambodia, we came back to Thailand. Bangkok, modern city, modern life ; small villages in northern Laos ; Along bay, Hanoi and Hochiminh city in Vietnam ; Angkor in Cambodia were some of our stops. Lao and cambodian roads distressed a bit our backs but travelling can't always be easy !

We'll remember the thai, lao and cambodian smiles but in Vietnam, it was a bit more difficult. Fortunately we met esperantists who changed our perception of their country.

Today we're in Malaysia, tomorrow Singapore and the day after, we'll arrive in Australia : other country, other continent...

See or read you soon.

---
Kathmandou, NEPAL,
24 / 02 / 2001
Hy friends!
We left India after a disappointing stay in Agra (hasseling people and enormous increase of the entrance fee of the Taj Mahal) and a few nice days in Varanasi.
We are now in Nepal. First we enjoyed the quiet and preserved national park of Bardia, even if we didn't meet any tiger or rhino... Then we came in Kathmandu where we are welcomed by a nepalese family (thanks to esperanto) whom children guide us in the city.
Tomorrow we'll begin the Annapurna Circuit : 3 weeks of trek in the heart of Himalaya!
On the 23th of March, we'll fly to Bangkok (Thailand) to enter Laos and Vietnam.

Rachel & David